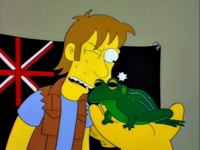 What the heck is 'Shazwazza'? It's just a silly nickname that evolved since I moved to Australia. For a while a lot of people were calling me Shazza or just Shaz (which is sometimes still the case). Aussies love to end nick names in 'z' endings or 'o' (i.e. Like Stevo instead of Steve, or Gaz instead of Gary).
Then there was that Simpsons episode when they come to Australia. If you haven't seen this episode, i suggest you do immediately because it is frickin hilarious! In any case, there's a quote in the episode which is done in one of the worst Aussie accents ever where some Aussie guy is looking at a bull frog and says "Bull frogs?? Well that's an odd name... I'd a called 'em Chazwazzas"
Well this name instantly evolved into a nick name for me ... Shazwazza.